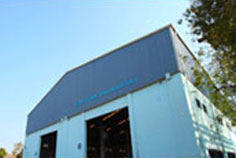 "DIPTI METAL INDUSTRIES" Manufacturing and Supplying quality steel products Pipe Fittings, Flanges and fasteners of various sizes and types in Carbon Steel, Stainless Steel, Alloy Steel, Duplex Steel and Nickel Based Alloy materials and supplied under the brand name "DMI" to various Chemical, Fertilizer, Petrochemical, Power Generation and Pharmaceutical industries, and used widely in the Piping system for their project jobs and maintenance.
DIPTI METAL INDUSTRIES" has drawn together under the one roof of the total spectrum of Manufacturing stockholding and processing activities in Stainless Steel, Carbon Steel, Nickel Alloy, Alloy Steel, Copper, Brass, Monel, Inconel, Aluminum, Hastalloy, in the shape of Pipe Fittings, Flanges and Fasteners. We are also trading in Tubes and Pipes, Wires and Bars, Sheets and Plates, Angles, Coils and Strips. Our main Products is BW Pipe Fittings in type of Elbows, Tees, Reducers, End Caps, Stub Ends, In Forged Socket Weld and Threaded Pipe Fittings in type the type of Elbows, Tees, Couplings, Crosses, Unions, Nipples, Plugs, Bushings Caps etc. Our Forged Olets in the type of Weldolets, Sockolets, Thredolets, Elbolets, Flexolets,Latrolets, Sweepolets, Nipolets, Brazolets and Coupolets.
Right product for the right requirement at the right price, i.e. rather than a mere supplier of the product we take utmost efforts in understanding the client's requirement, identifying the right product at the right price. This has resulted in close ties with major customers within India & World-wide.